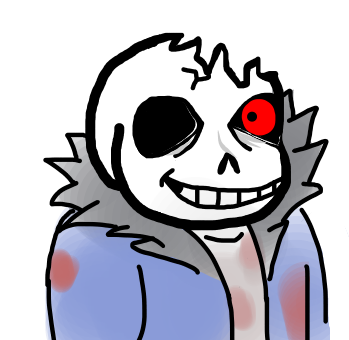 My informations :
Nickname:
The Butcher or Butch for his friends.
Original Timeline:
Horrortale
My Friends :
The monsters he helped, Cherry
My Ennemies :
Undynes... Most of them.
Objectives/Personal Quest :
Help the distressed monsters and fight his blood thirst.
Weapon:
a butcher knife
Favorite article of clothing:
his old strained vest
My RPs :
Finished :
Scavenging for food
:
With Cherry.
The poor Cherry came to Butcher's door starving and at the breach of dying. Butcher helps him and find a broken soul needing help and kindness.
Ongoing :
Trying to fit in...
: Butch goes in the Sin District to visit a fiend...
Out of Character :
I agree to:
A lot of things. Kidnapping, torture, serious injuries and most sexual situations. I even accept the character's death.
I reject: Talk to be before sexual things so we can agree. Or if you want to kill him. For the torture, violence and all the things like that... no need to ask me, I like surprises.